"Creating Unique Awe Inspiring Experiences Through Digital Innovation in Music, Faith, and Culture for Authentic Souls."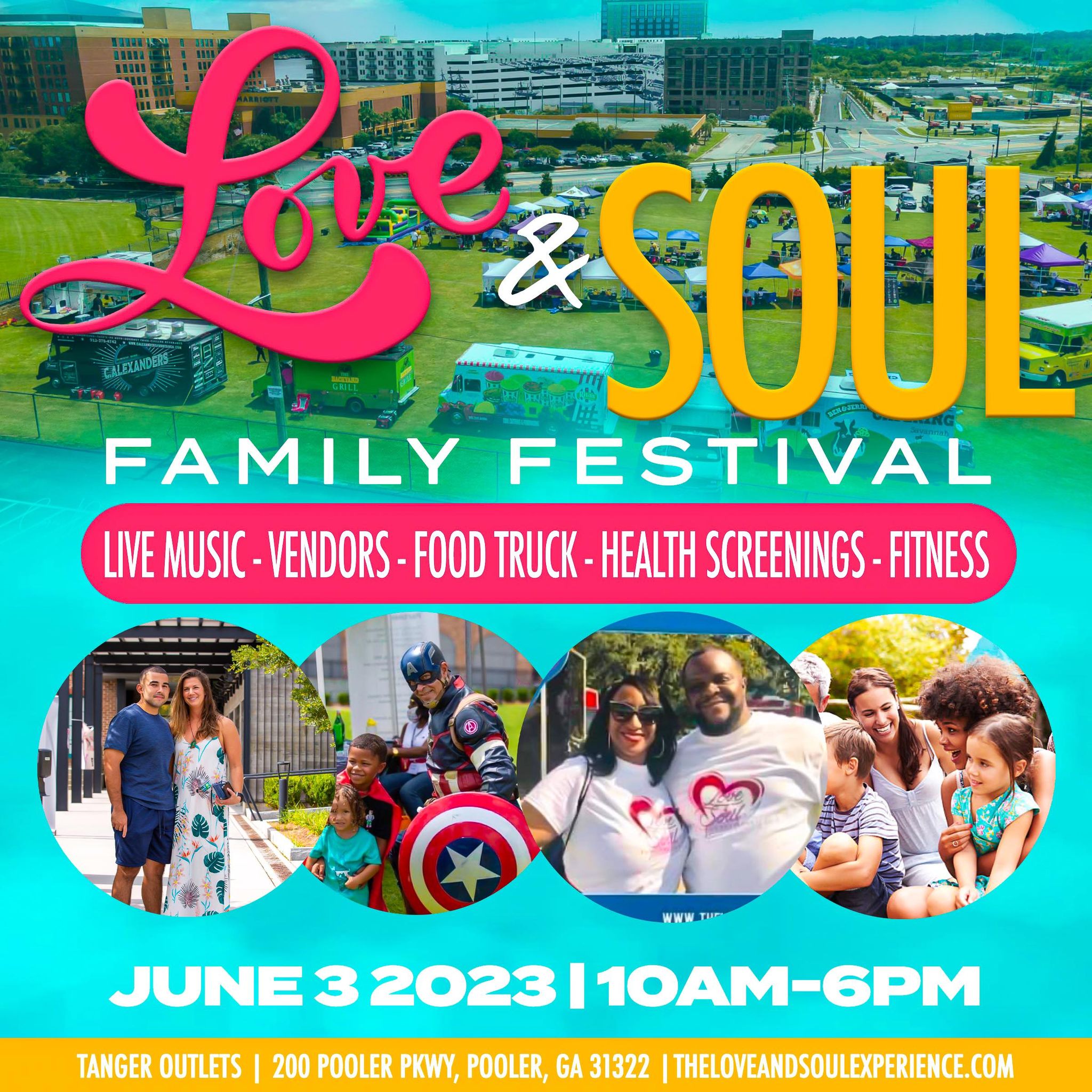 Announcing the 6th Annual Love & Soul Family Festival!
Coming to Tanger Outlet Pooler on June 3, 2023! 
Spring is a great time for us to get outside and enjoy the outdoors! Live music, food trucks, vendors, activities for kids and more! Where Families Play!
On Saturday, June 3, 2023, we will kick off our 6th Annual Love & Soul Family Fest! This community-family-based event will take place at the Tanger Outlets in Pooler, GA and is free and open to the public. Performances will begin at 11 am. This day-long celebration will be power-packed with activities ranging from live performances, food trucks, train ride & games for children, and health screenings\info. There will also be non-profit organizations, local community service vendors, as well as small business vendors onsite. We're asking the community to come out and celebrate with us.
The Family Festival will be an exciting and high-profile event. The festival seeks to engage organizations that are committed to supporting families, promoting unity in the community, and influencing others to make positive life choices for their family and community.
***Sponsorship & Vendor Opportunities are available***
***FREE parking. Bring the entire family!***
Guests are encouraged to bring lawn chairs.
LIVE MUSIC * ENTERTAINMENT * HEALTH FAIR * FOOD * VENDORS * FAMILY
The Love & Soul Family Festival (LSFF) is a festival committed to presenting a diverse range of music and live performances from local and national acts that includes everything from jazz, hip-hop, gospel and soulful R&B, to poetry, spoken word and dance. We are also dedicated to providing a family friendly experience that will educated them on health and nutrition, physical fitness, and networking with our local vendors.
Our Mission
The Love & Soul Experience is a unique social event that focuses on bringing everyone together within an intimate setting to enjoy a night of artistic creative expression through music, visual, graphic, culinary art, and spoken word. We create an environment without all of the negative influences. Through digital innovation, top notch production, vendors, and professional etiquette, our movement will change the perception of clean inspirational events. LSE was voted the Second Best Night Out on the Town by Savannah Morning News! Stay connected with us at  www.theloveandsoulexperience.com.